Today's post hits on a personal note for me. I don't use this often myself as my hair is growing out of a pixie cut from 2 years ago still. Its about shoulder length now.
However, I do use this monthly for my daughter. This picture is from last October.
My little diva has hair past her bottom and its very thick. She wont think or hear of cutting it. To be honest I would probably bawl my eyes out if she did. While I love her hair, it can become very stubborn at times. The water in our area is hard and it takes its toll on her hair. After a month or so the ends of her hair start to look like plastic (the best way I can describe it) doll hair.
Photo: Sally Beauty
At first I thought this was due to split ends but my hair stylist told me that the chlorine from our water was eating away at the ends of her hair. So to manage this we started using a clarifying shampoo. Our go to is Sally Beauty Supplies
Ion Clarifying shampoo.
Its $6.99 USD which is a bargain. We where using some from the salon but I could not get over paying $25 per month for it, so we switched. Ion is just as good. We saw immediate results with this shampoo and her hair looked more vibrant then ever.
Photo: Babyrazzi
However, her hair while looking much healthier, was still a tangled mess every time we went to brush it. With her hair being this long some tangles are expected of course, but I was spending 20-30 minutes fighting her tangles out every day. Store bought hot oil treatments just did not work, cost $5-6 USD, and needed to be done weekly.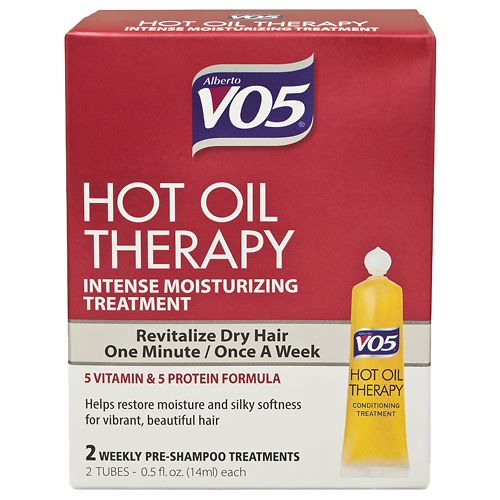 Photo: Drugstore.com
To help keep her tangles at bay, I was keeping her hair in a variety of french style braids. While we love a good braid, some days she wanted to wear her hair down. This is where a Coconut Oil Treatments comes into play. This treatment makes her hair soft and it de-tangles easily. She is good to go for a month or more after each treatment and the cost is much lower then store bought preparations.
Photo: Women's Daily Magazine
Coconut oil is fantastic for our hair. It deeply penetrates, protects hair from Hygral Fatigue and protein loss. What is Hygral Fatigue? Basically, when our hair is wet it absorbs water making it plump up, when it dries it releases this water and our hair shrivels leading to hair damage and that is Hygral Fatigue.
DIY Coconut Oil Hair Treatment
What you will need:
-Coconut oil
-Shower cap
-Blow dryer
1. Scoop out some coconut oil into a small bowl.
Photo:Firstalt
2. DRY hair. Your hair needs to be dry for this to work properly. We usually do this just before bath time.
3. Get a small amount of coconut oil in your palm. Rub together until it softens. Apply to hair one 1" section at a time. Be sure to pay special attention to the hair ends.
4. Continue this process until all your hair is saturated, then comb with wide tooth comb.
Photo: apintegracion
5. Once saturated, place your hair into a plastic shower cap.
Photo: Secondlife
6. Blow dry on low to medium heat for 10- 15 minutes.
Photo: Salondoll
Blow drying is optional but I find that is helps the oil better penetrate the hair and leaves the hair looking very shiny.
7. Wash your hair with shampoo until all the oil is gone.
If you have stubborn unruly hair, I think you will find this works well for you. Its really worth the time and effort to see the results.